Available in 2" and 4" sizes, and sold in 50 pcs packs. 

Each box contains a Gel-Pak® tray with X4 (for pre-polished and/or etched surfaces
) and are made of black conductive plastic.
Applying vacuum to the tray puts it in release mode allowing samples to be removed easily without prying or application of force.
Gel-Pak® VR series boxes may be used in automated pick-and-place applications.

The 2" (50.80 x 50.80 x 6.35mm) box is hinged with snap closure and has as usable are of 34.29 x 34.29mm.

The 4" (101.60 x 101.60 x 11.68mm) box slides into a clip (GP-CLIP-44C) for secure closure and transport and has as usable are of 76.2 x 76.2mm.
For both model you can use the VP24 Vacuum Base. It can be used with the Gel-Pak® PortaVac, as well as any suitable vacuum source, as it has a barbed fitting for 1/8" I.D. hose.
View full details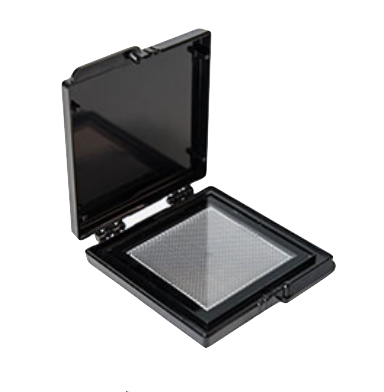 Non trovi quello che cerchi? Contattaci!
If you don't find what you are looking for, contact us!